Inugami Circus-dan (

犬神サーカス団

) are a Japanese hard rock band. The band's name literally translates to The Dog-God Circus Troupe. Their visual element consists of the female singer wearing a kimono, and the rest of the band wearing military-style uniforms. They also wear Gothic and Kabuki style make-up.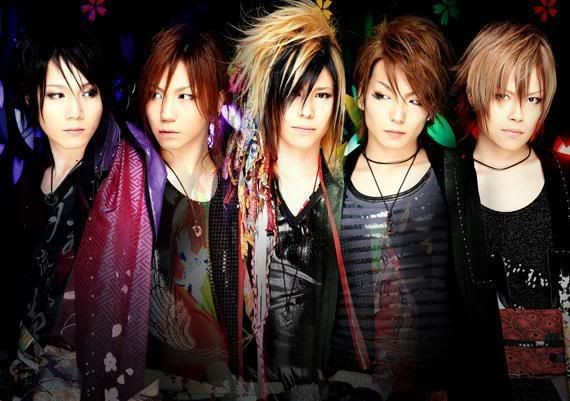 History
They formed in 1994 after vocalist Kyoko placed an advertisement in Garo, a manga magazine. They began performing under the name Inugami Circus Dan in 1997.
In October of 2003, they released their major label debut on Zetima Records, "Inochi Mijikashi Koi Seyo Jinrui!"

Members
Inugami Kyouko - Vocals
Inugami Jouji II - Guitar
Inugami Zin - Bass
Inugami Akira - Drums

Discography
Albums
Jigoku no Komoriuta (地獄の子守唄) - 1999
Hebigami-hime (蛇神姫) - 2000
Ankoku Zankoku Gekijou (暗黒残酷劇場) - 2001
Kaidan! Kubitsuri no Mori (怪談 首つりの森) - 2002
Kami no Inu (神の犬) - 2003
Greatest Hits (グレイテスト・ヒッツ) - 2004
Sukeban Rock (スケ番ロック) - 2005
Kejijou no Eros (形而上のエロス) - 2006
Kago no Tori, Tenkuu wo Shirazu(籠の鳥、天空を知らず) - Oct 7 2009
Setakamui (セタカムイ) - May 12 2010

Mini-Albums
Goreizen (御霊前) - 1997
Akaneko (赤猫) - 2000
Machiwabita Hi ~ Keijijou no Eros Gaiden (待ちわびた日~形而上のエロス外伝) - 2006
Kyoko no Kyofu no Shinya Radio: Featuring Inugami Circus Dan (凶子の恐怖の深夜ラヂヲ: Featuring 犬神サーカス団) - 2007
Ju-ren (呪恋) - 2008
Yakouressha Gokuraku Yuki (夜行列車極楽行) - Nov 5 2008
[edit]
Singles
"Jinkou Ninshin Chuuzetsu" (人工妊娠中絶) - 2001
"Saigo no Idol" (最後のアイドル) (2-track CD+18-track DVD) - 2003
"Inochi Mijikashi Koiseyo Jinrui!" (命みぢかし恋せよ人類!) - 2003 (Oricon Ranking 78)
"Saisho no Tobira" (最初の扉) - 2004 (Oricon Ranking 59)
"Tsugou no Ii Onna / Honto ni Honto ni Gokurou-san" (都合のいい女・ほんとにほんとに御苦労さん) - 2004
"Hikari to Kage no Toccata" (光と影のトッカータ) - 2007.8
"Jigoku ni Ochita Kodomotachi" (地獄に堕ちた子供たち) - 2007.9
"Takaramono" (たからもの) - 2007.10
"BABYLONIA Koi Monogatari" (バビロニア恋物語) 2007.11
"Itsuka" (いつか) 2007.12
"Tsubasa" (翼) Apr 9, 2008
"Sweet" Oct 8 2008
"Koi wa Munekyun" (恋は胸きゅん) - April 8, 2009

DVD / VHS
Yoru ga Owacchimau Mae ni (夜が終っちまう前に) - 1998
Nozoki Karaku Kyouken Shibai (覘キ絡繰狂犬芝居) - 1998
Hakoiri Idou Circus ~Tent Sono Ichi~ (箱入り移動サアカス~テント其ノ壱~) - 2002
Yomi no Kuni (黄泉の国) - 2003
Sennou (洗脳) - 2003
Chingonka ~Requiem~ (鎮魂歌~レクイエム~) - 2003
Video Clip-Shuu - Seppuku (ビデオクリップ集・切腹) - 2004

Compilation / Other
Akai Hebi (赤い蛇) (Akai Hebi) - 2000
Ijou no Utage (異形の宴) (Akaasa no Shoufu [赤痣の娼婦], Enamel wo Nurareta Apollinaire [エナメルを塗られたアポリネール]) - 2000
Ijou no Utage (異形の宴) (DVD) (Enamel wo Nurareta Apollinaire [エナメルを塗られたアポリネール]) - 2000
Forever Young (フォーエバー・ヤング) (Takeda no Komoriuta) - 2001
365:TRIBUTE TO STALIN (STOP JAP) - 2001